Bianca Moon, MMS, PA-C at Spa Blue Skin Care & Laser Center in Orlando, FL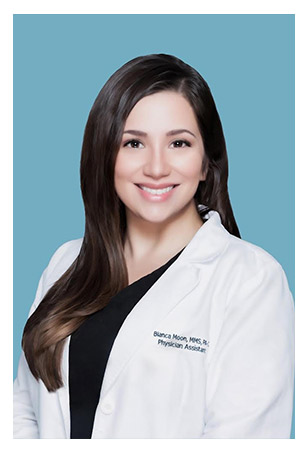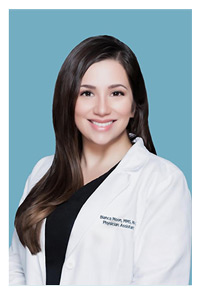 Bianca Moon, MMS, PA-C, is a nationally board-certified Physician Assistant specializing in aesthetic medicine and dermatology. She has extensive knowledge and expertise in cosmetic treatments as well in the evaluation and treatment of hair and skin diseases. She earned her undergraduate degree from the University of Florida and completed her Master of Medical Science degree through Nova Southeastern University in Orlando, Florida.
After graduation, she decided to pursue her interest in dermatology and spent two years formally training under a Board-Certified Dermatologist. Bianca has a passion for treating and educating her patients and making a difference in their lives by helping them feel more beautiful, confident, and healthy in their skin. She displays an enthusiasm for her field of work which is evidenced by her ongoing aesthetic medicine and dermatology education, by attending multiple national conferences and training programs yearly.
She holds active memberships with the American Academy of Physician Assistants, Society of Dermatology Physician Assistants, Florida Society of Dermatology Physician Assistants, and Florida Academy of Physician Assistants.
This fun-loving PA-C is a mother to two young boys. As a native from Miami, Bianca is fluent in both English and Spanish. She is thrilled to be part of the Spa Blue Team!